GetDandy Unveils New Advanced AI Technology to Distinguish and Eliminate Illegitimate Reviews – A Game-Changer for Business Reputations
Irvine, California -
GetDandy, a popular AI-powered reputation automation platform, has unveiled its newest advanced AI technology designed to effortlessly manage illegitimate reviews.
Trusted by over 4000 brands, GetDandy offers a range of functionalities that work together to improve a business's online reputation. These services run automated 24 hours a day, ensuring all feedback is analyzed and processed regardless of when it is posted. Moreover, GetDandy not only spots illegitimate and fraudulent reviews but also makes it easier for satisfied customers to post new reviews. This dual-pronged approach ensures that businesses enjoy the benefits of high review scores and a clean reputation on their several online profiles.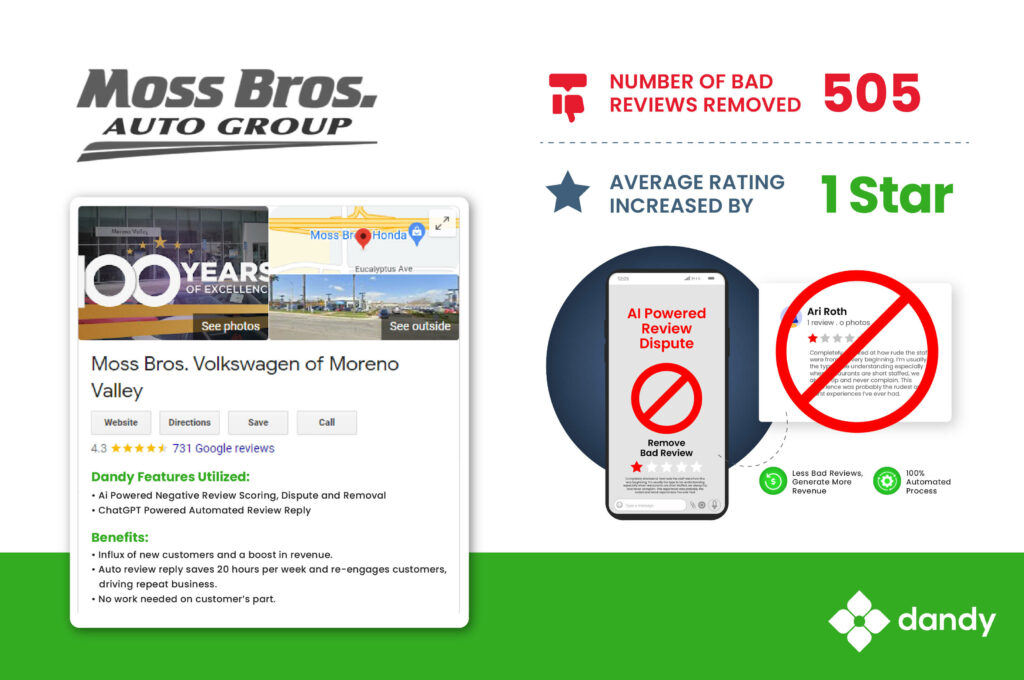 The company's newest updated AI technology now makes it easier than ever to identify and respond to reviews that do not come from a fair and unbiased source. The company's machine learning program searches out potential violations in reviews. Upon detection, the illegitimate reviews can be challenged by its clients with the review platform host including major review sites like Google, Yelp, TripAdvisor, Facebook, and more.
"With GetDandy, you never again have to be held to the whims of a defamatory or false review," says the spokesperson for the company. "We understand just how hard our clients work to deliver the best experience to their customers. So, an occasional slip-up or, worse, a disgruntled customer on a personal vendetta shouldn't be able to nullify all the efforts you make to run a successful venture. GetDandy also protects you from malicious reviews employed by business rivals to give your company a bad name. If you are ready to unleash the power of a rock-solid online reputation on your bottom line, give us a call today. You can also find out more by visiting https://www.makeuseof.com/getdandy-ai-powered-customer-experience-platform/."
The full range of products present in GetDandy's reputation management platform includes review removal, review aggregation, reputation management, reputation monitoring, review generation, surveys, reporting, web chat, and guest feedback QR codes. The company works with all kinds of businesses, whether they are large or small, from a wide range of industries including those in healthcare, dental, real estate, home services, retail, legal, financial services, hospitality, automotive, restaurants, insurance, personal services, and more.
GetDandy also leverages the power of AI to write responses to reviews to show potential customers that the business is proactive in responding to their feedback. The AI-powered automated review reply feature is built using the power of ChatGPT, the latest and most advanced AI program that has found success through its ability to accurately mimic human text and respond coherently to queries. This feature frees business owners and managers to focus on their service while saving costs that would otherwise be required to hire team members to respond to reviews manually.
"When customers see that you are actively keeping a tab on the feedback posted," says the spokesperson, "those with bad intentions think twice about posting their fraudulent reviews. Every reply to the reviews seems authentic, personal, and unique, showing the community that you are committed to listening to them. Soon, your online profiles get filled with the experiences from real customers who have had a positive experience with your business."
To date, GetDandy has successfully removed over 50,000 negative reviews for its clients and is on track to help over 100,000 brands manage their online reputation. On its website, the company highlights several testimonials from business owners who praise GetDandy for helping them clean up their profiles on review sites and garnering interest from new customers.
One such review says, "Exceptional service because I saw some results in the beginning early on. GetDandy did a great job of removing a couple of negative reviews. They did a great job of that in just a few months, and I was happy to see that with the invested value. It was definitely a value-added service."
Business owners who want to unlock the true potential of their online reputation are urged to visit GetDandy's website and schedule a 15-minute introductory call today.
###
For more information about Dandy, contact the company here:

Dandy
Bri Nicole
9492390778
bri@getdandy.com
9891 Irvine Center Drive #200
Irvine, CA 92618